News
Bitte beachten Sie, dass wir
vom 23. Dezember 2022 bis zum 1. Januar 2023 geschlossen haben.
Letzter Versandtag ist der 21. Dezember 2022.
Das Team der Milenia Biotec GmbH wünscht Ihnen schöne Feiertage und einen guten Rutsch ins neue Jahr 2023!
Please note that we will be closed
from 23. December 2022 until 1. January 2023.
Last shipping day is 21. December 2022.
The team of Milenia Biotec wishes you happy holidays and all the best for the new year 2023!
We are highly qualified!
Certified Quality Management System
Our quality management system is certified by TÜV Rheinland according to DIN EN ISO 13485
You can download the current certificate here:
Need help?
On weekday your message will usually answered within 24 hours. We're open Monday trough Friday excluding national and regional holidays. Office hours from 8 am until 4.30 pm
It is 9:44 am in Gießen right now.
We ship worldwide!
Our Bestsellers - available from our Online Shop.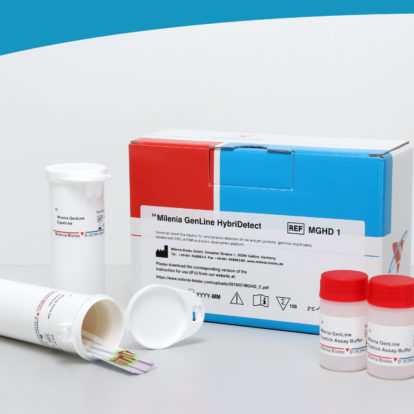 HybriDetect – Universal Lateral Flow Assay Kit
The HybriDetect is a simple and quick tool to develop your own rapid test. Various molecules can be detected: Proteins, Antibodies, Genetic amplicons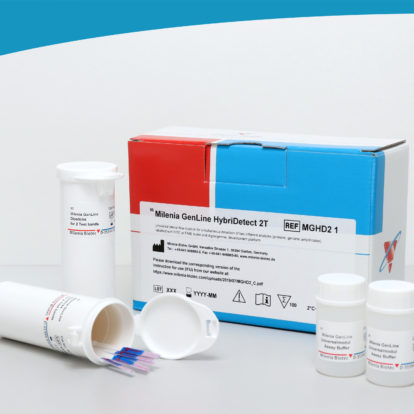 HybriDetect 2T
The HybriDetect 2T is a simple and quick tool to develop your own rapid test. The 2T is designed for simultaneous detection of two analytes. Various molecules can be detected: Proteins, Antibodies, Genetic amplification products