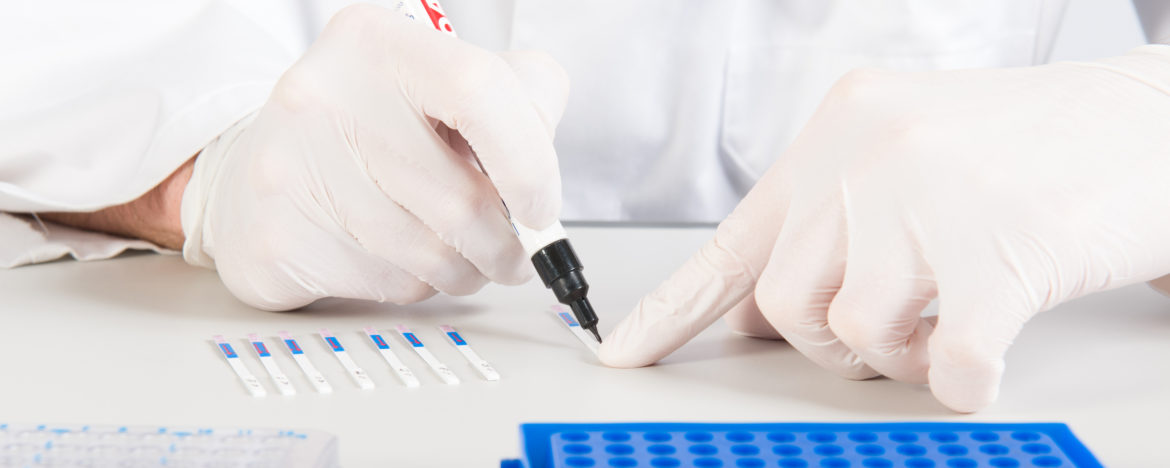 Milenia Biotec - Short and Sweet
Milenia Biotec is dedicated to the development, manufacture and sales of point-of care lateral flow tests, a technology well known from pregnancy testing. The core products of the company are based on "universal test strips", a concept allowing quick and simple developments and a simple production process.
Milenia Biotec is located in Gießen, a university city with 84.000 inhabitants, 45% of whom are students. Gießen is in the center of Germany, 60 km north of Frankfurt/Main with its international airport. From here we serve our customers worldwide directly and via our network of partners and distributors.
It's all about Rapid Tests
At Milenia we develop and manufacture our products with a lot of heart. It is our goal not only to develop the test strip itself, but also the raw materials needed and apps for the interpretation of the results. We make and purify our own monoclonal and polyclonal antibodies and have developed an "antibody toolbox", helping us to identify antigen specific clones of mouse monoclonal antibodies and to identify the Ig subclass. Furthermore, we are purify antigens and polyclonal antibodies and label them in house with various tags, including biotin and others. In order to control these development processes we have also developed simple test strips capable of detecting any protein or lablelled protein. We call this system "ProteinDetect". Both, the "antibody toolbox" and "ProteinDetect" are available for customers who develop their own antibodies and proteins.
We develop so that you can develop
Many of the lateral flow tests we develop are based on the concept of "universal test strips". This means that the antibodies or antigens are not fixed directly to the strip. They are labeled with a small molecule, often biotin, and the small molecule is captured by a specific antibody or – in case of biotin – by a streptavidin which is coated onto the strip. This concept allows quick development, because the strip is precoated for universal use. At the same time, we keep the production process simple as we need only to scale up the production volume of strips when we release a new parameter which is based on the "universal test strip" principle. Since 2003, we have made a universal test strip, called "Milenia HybriDetect" available to our customers. An increasing number of researchers are using this product, develop fascinating tests and frequently publish their scientific papers. So far we found more than 145 scientific papers referring to the use of "Milenia HybriDetect". Partners from the industry are also using our "universal test strips" as a development platform for their own "lateral flow strip" based products.