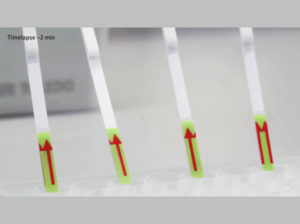 Recently Milenia Biotec GmbH received several customer inquiries related to COVID-19 detection, due to the fact, that HybriDetect may be used for the detection of RPA, LAMP or PCR amplicons. Following up these inquiries, we a literature search on the SHERLOCK (Specific High Sensitivity Enzymatic Reporter UnLOCKing) technique, which is a powerful tool to detect genetic information coming from viruses using CRISPR.
What is HybriDetect?
The HybriDetect is a lateral flow dipstick (LFD), which is capable to detect different molecules, including gene amplification products, proteins and antibodies. A commonly used application for our test is the detection of gene amplification products resulting from PCR, LAMP or RPA. The underlying genetic information can be detected regardless which kind of organism need to be detected.Finally, labeled primers must be introduced in the amplification step, so that the resulting fragments are labeled and can be detected by the HybriDetect dipstick.
Results can be reported within 5 minutes after lines become visible on the test Strip.
COVID-19 Detection Methods
At the moment, the standard method for detection of COVID-19 is a qRT-PCR. Obviously, there are several reasons why qRT-PCR cannot be used as a POCT. First of all, it takes several hours to do a qPCR, second you need highly trained personnel and third special equipment is essential. In the current situation, with the entire world dealing with the COVID-19 outbreak, it is of great interest to develop rapid tests for POC testing of the new corona virus to help people in sparsely populated areas where laboratories are difficult to reach.
Here we give a short overview of the latest publications dealing with the rapid detection of COVID-19 combined with the HybriDetect Lateral Flow Method for visualization.
DETECTR
Broughton et al. already published a paper, how to detect SARS_CoV-2 using LAMP, Cas12 and our HybriDetect within 30 minutes. They are using isothermal pre-amplification with primers published by the WHO and CDC. As the authors mentioned in the paper, this application would be a helpful tool for POCT testing in emergency departments, airports etc..

For more information see the original paper:
https://mammoth.bio/2020/02/15/white-paper-a-protocol-for-rapid-detection-of-sars-cov-2-using-crispr-sars-cov-2-detectr/
SHERLOCK
The group of the inventor of the SHERLOCK method Feng Zhang also described a method for COVID-19 detection using CRISPR. The scientists were able to detect synthetic COVID-19 virus RNA fragments between 20 and 200 aM (10-100 copies per µl of input). They used purified RNA as Input for an RT-RPA before the Cas13 assay. The whole method takes less than one hour.
The following picture shows an example of the COVID-19 detection using our HybriDetect.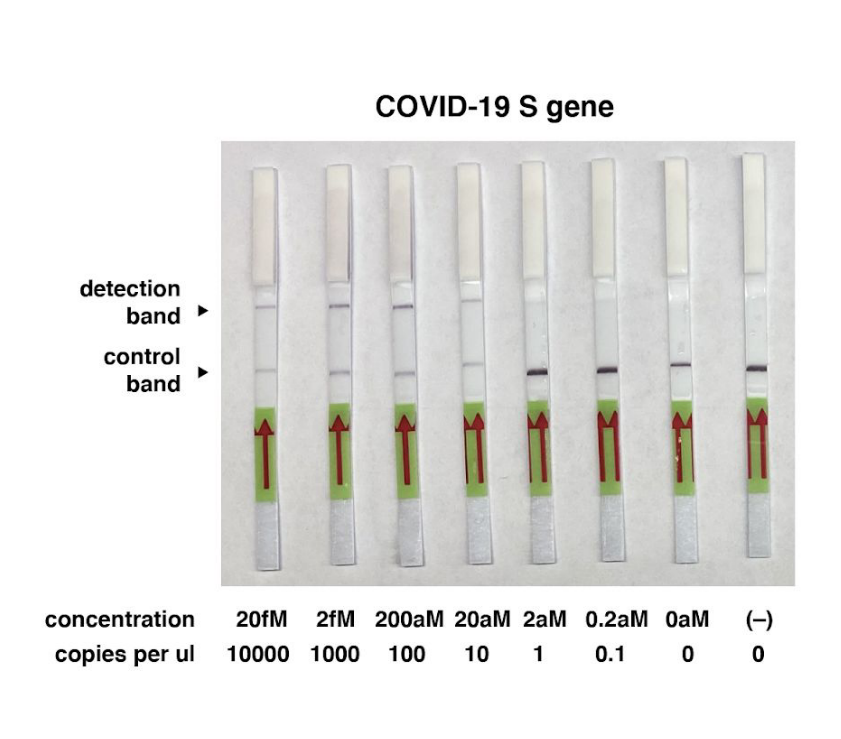 For more information see the original paper:
https://www.broadinstitute.org/files/publications/special/COVID-19%20detection%20(updated).pdf
Zhang et al give a precise description, how the SHERLOCK technique is done in nature protocol:
http://dx.doi.org/10.1038/s41596-019-0210-2
Comparison of the three Methods (as described by Broughton et al.)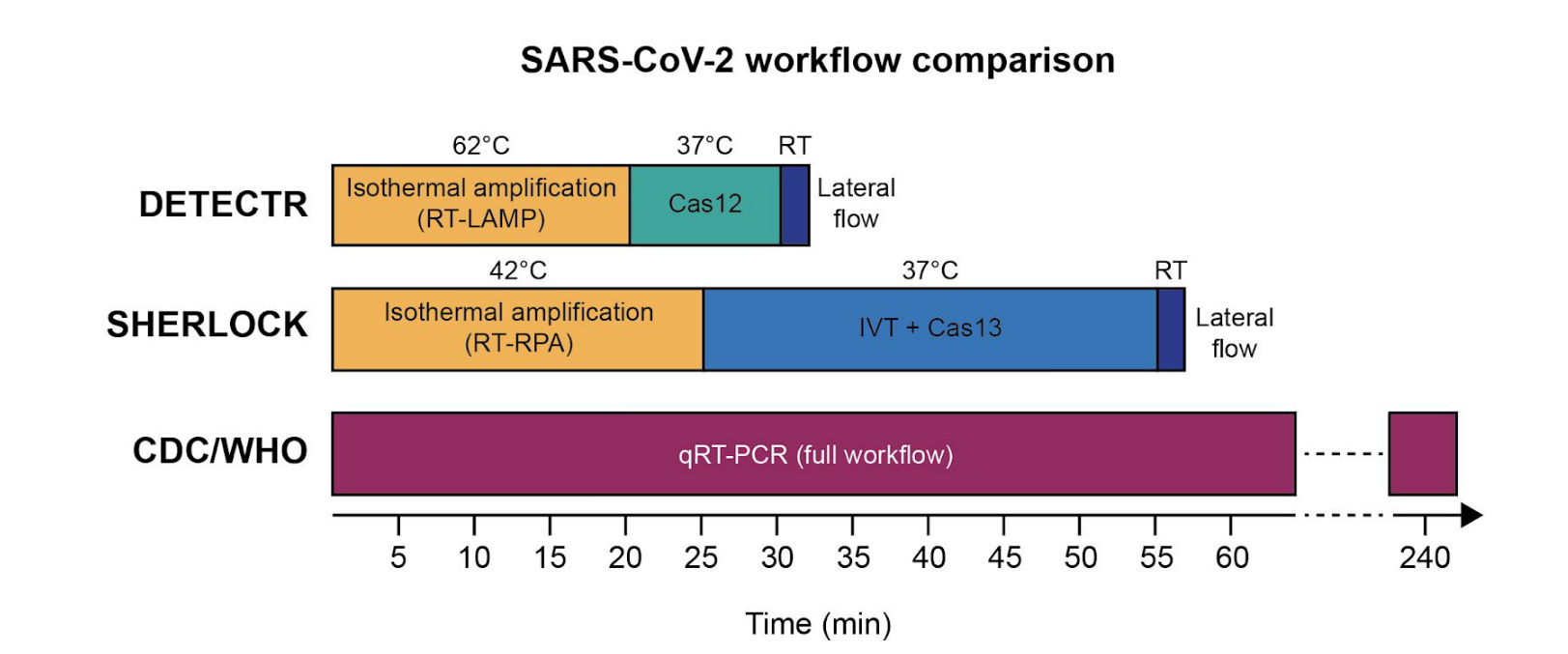 Here you can find a video from the McGovern Institute describing the SHERLOCK technique in combination with the HybriDetect in General