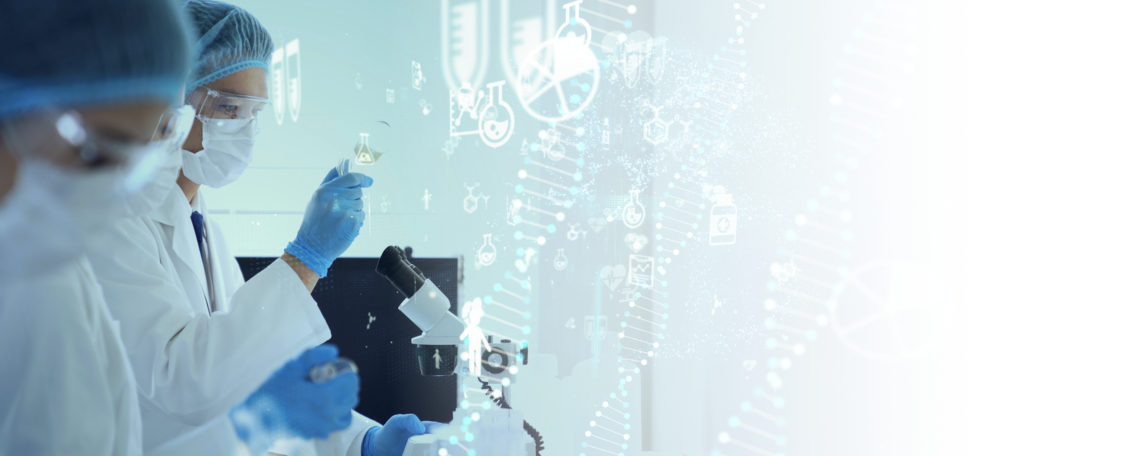 Lateral Flow Assays using Genome Editing Tools
This defense system is based on regions of repeating DNA-​​sequences, called "Clustered Regularly Interspaced Short Palindromic Repeats, also referred to as CRISPR. In addition, CRISPR-​​associated proteins (Cas proteins) are required for successful defense. Transcribed CRISPR-​​RNAs are able to guide Cas protein(s) to the viral genome. A charac­ter­istic feature of Cas proteins is the endonu­clease activity, which causes the specific degra­dation of viral nucleic acids. (3, 4)
These combined features of sequence specific recog­nition and cutting have been used for the devel­opment of genome editing tools.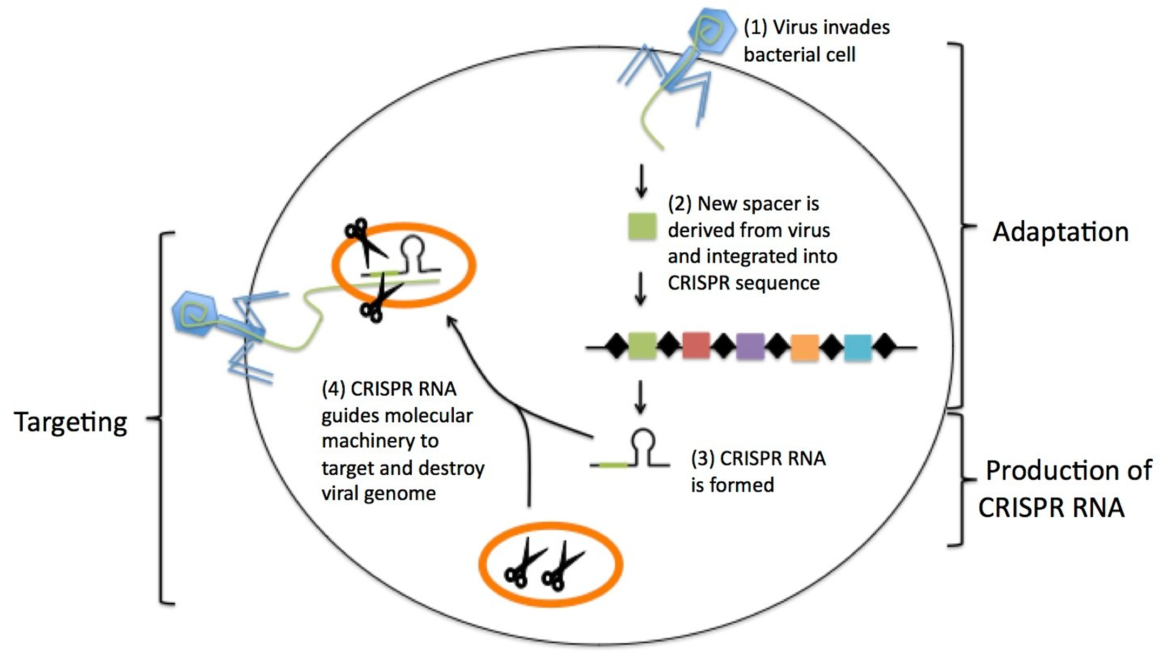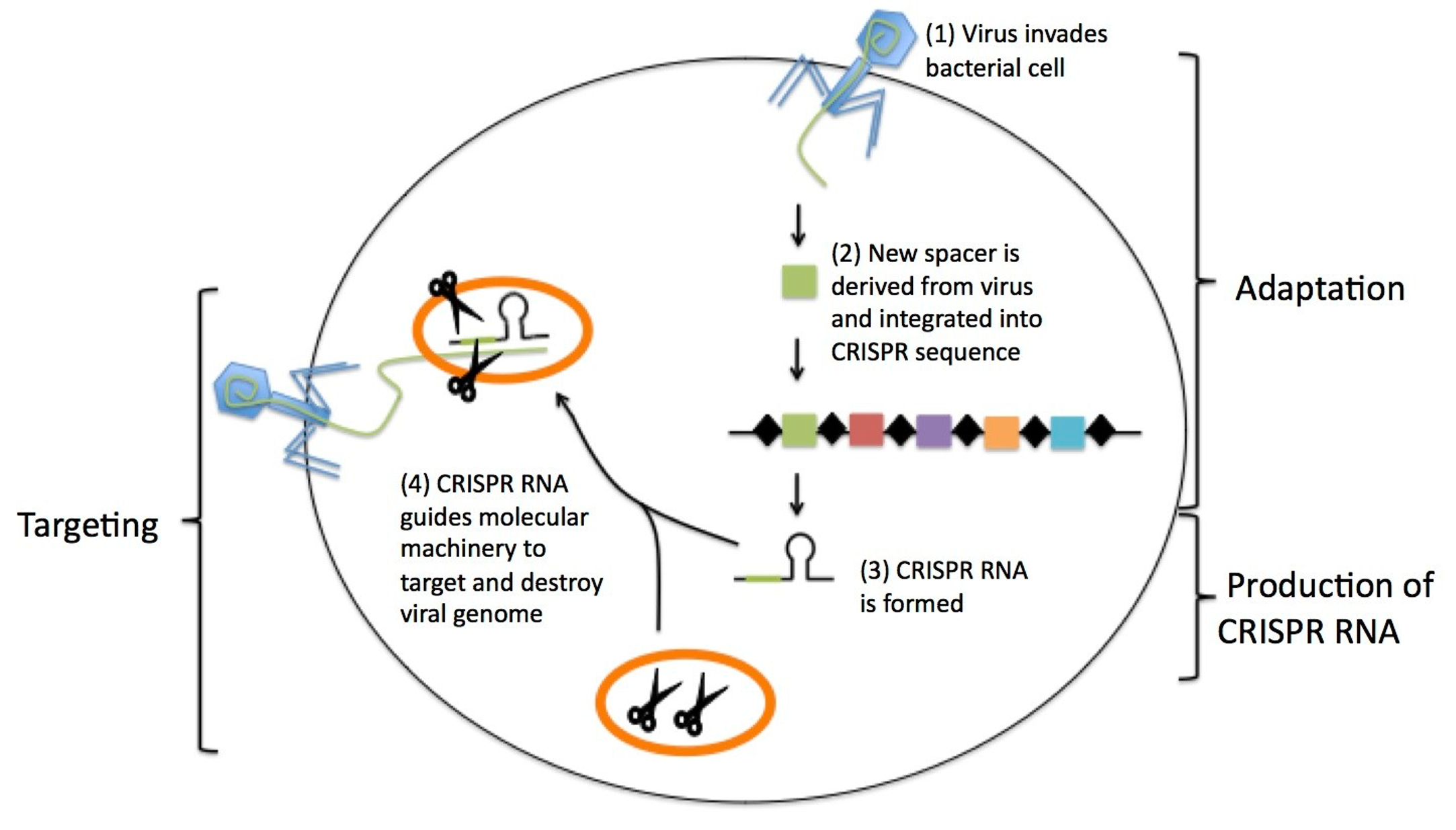 Impor­tance of Diagnostic Alter­na­tives in the Point-​​of-​​Care Field
There is a great need for diagnostic alter­na­tives that are suitable for simple, fast, specific, sensitive, and inexpensive early detection of pathogens. Simple handling and the avoidance of expensive and complex devices are considered to be partic­u­larly important, especially for third world countries or regions with limited lab capac­ities. (6, 7)
This deficiency became very clear in the years 2014 to 2016 during the Ebola outbreak (8). Today we are experi­encing an even more extreme situation. The Sars-​​CoV-​​2 pandemic affects the whole world and safe, scalable diagnostics is one of the most important issues today. As part of WHO's response to the outbreak, the R&D Blueprint has been activated to accel­erate diagnostics, vaccines and thera­peutics for this novel coron­avirus (9).
What Makes
CRISPR

Associated Enzymes Attractive for Diagnostic Purposes?

In recent years, CRISPR/​Cas-​​based detection systems have increas­ingly come into focus as serious diagnostic alter­na­tives. But why are some Cas proteins partic­u­larly suitable for molecular biosensing?
Within the Cas protein classi­fi­cation model, all diagnos­ti­cally relevant Cas proteins originate from class II. These are multidomain proteins that are guided to the target nucleic acid by associated single stranded RNAs. Another essential feature of diagnos­ti­cally relevant Cas proteins is a so-​​called collateral activity, which occurs after a target sequence has been success­fully recog­nized. Single-​​stranded RNA-​​/​ DNA-​​fragments are efficiently degraded in a short period of time due to this collateral activity. And this function makes these proteins such inter­esting tools in diagnostics. By using molecular reporters, the collateral activity can be used for signal gener­ation in a diagnostic approach. Reporters are short DNA– or RNA-​​fragments that have defined labels at their ends. Reporter cleavage leads to the gener­ation of a detectable signal.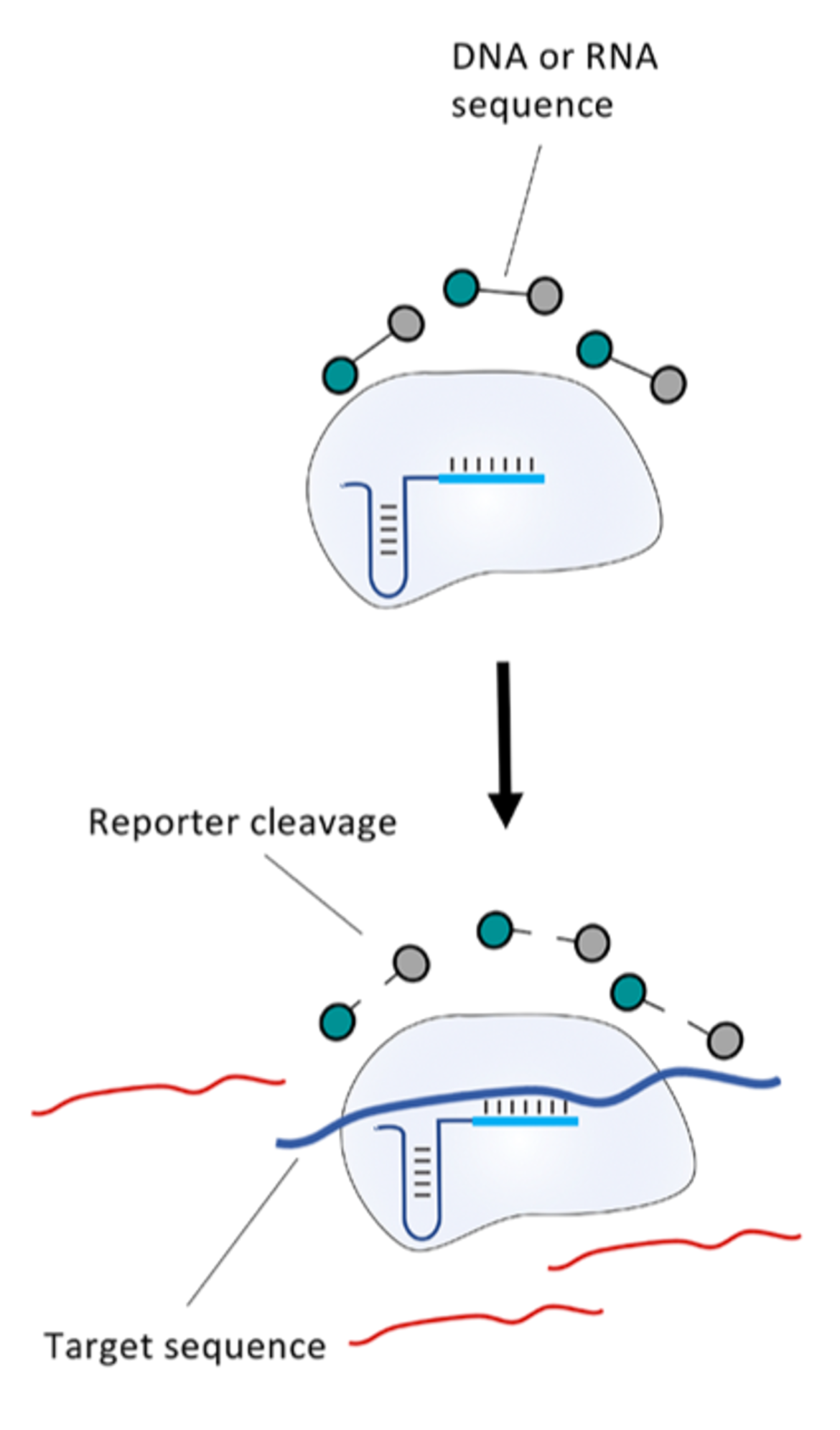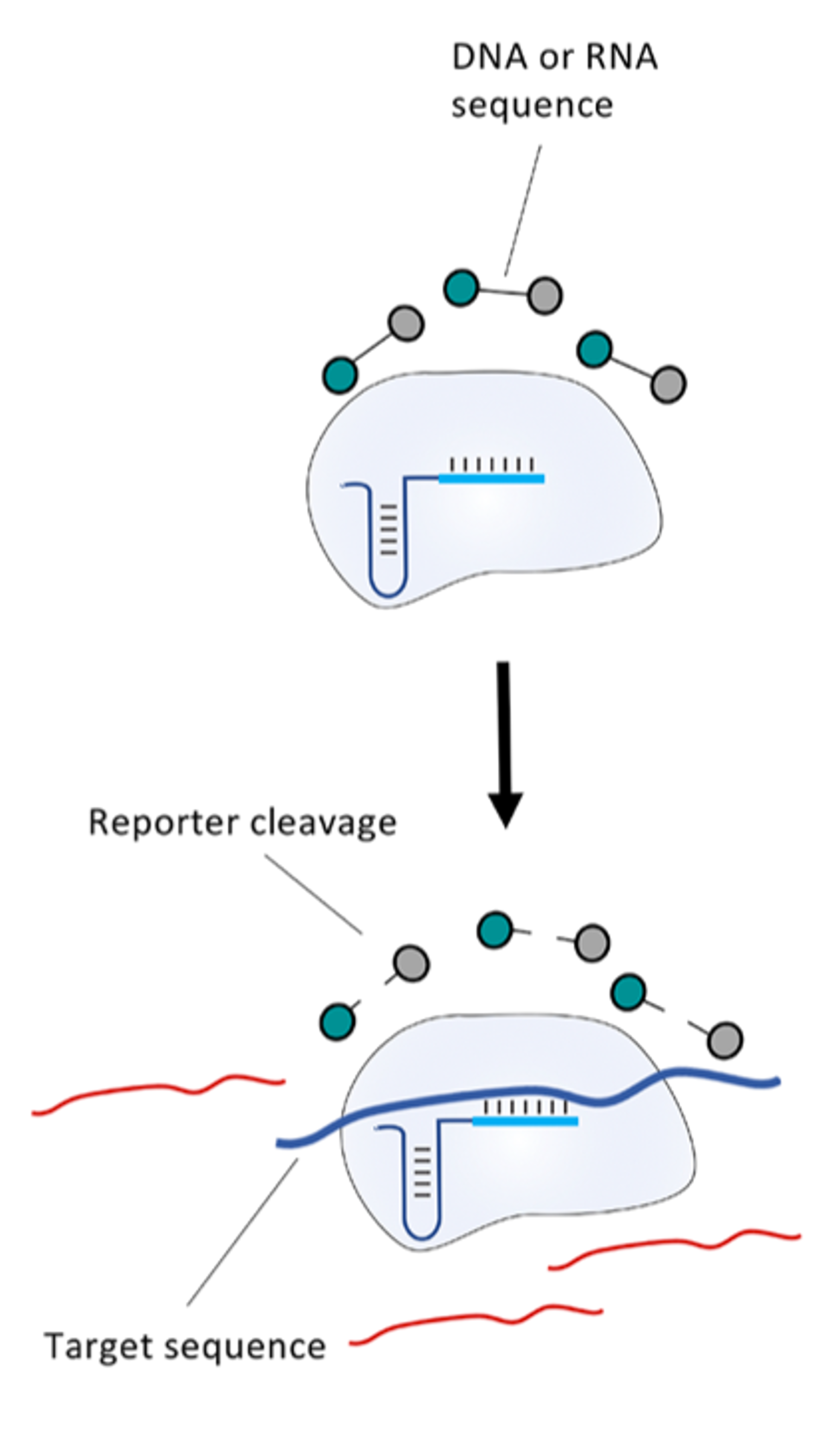 Different Cas proteins have special charac­ter­istics and differ in some relevant criteria such as: size, recog­nition of nucleic acid type, collateral degra­dation of ssDNA or ssRNA (10). Table 1 gives a brief overview of the three diagnos­ti­cally relevant Cas proteins and their specific features.
Table
1
. Charac­ter­istics of commonly used CRISPR-​​associated Proteins for diagnostic purpose
Charac­ter­istics
Cas

12

a
Cas

13

Cas

14

RNA

guided
yes
yes
yes
Targeting restric­tions
yes (

PAM

)
weak
yes (

PAM

)
Target type

DNA

(ss and ds)
ssRNA

DNA

(ss and ds)
Classi­fi­cation
Class

II

, Type V
Class

II

, Type

VI

Class

II

, Type V
Nuclease Acvtivity
ssDNA
ssRNA
ssDNA
CRISPR

/​Cas-​​Systems and Lateral Flow Readout with HybriDetect

CRISPR/​Cas-​​based detection methods can be combined with a simple Lateral Flow Readout. Therefore the universal lateral flow platform HybriDetect is the perfect tool for a sensitive, rapid, equipment-​​free and simple visual­ization of test results (11). The general mechanism is explained in the following Figure 3.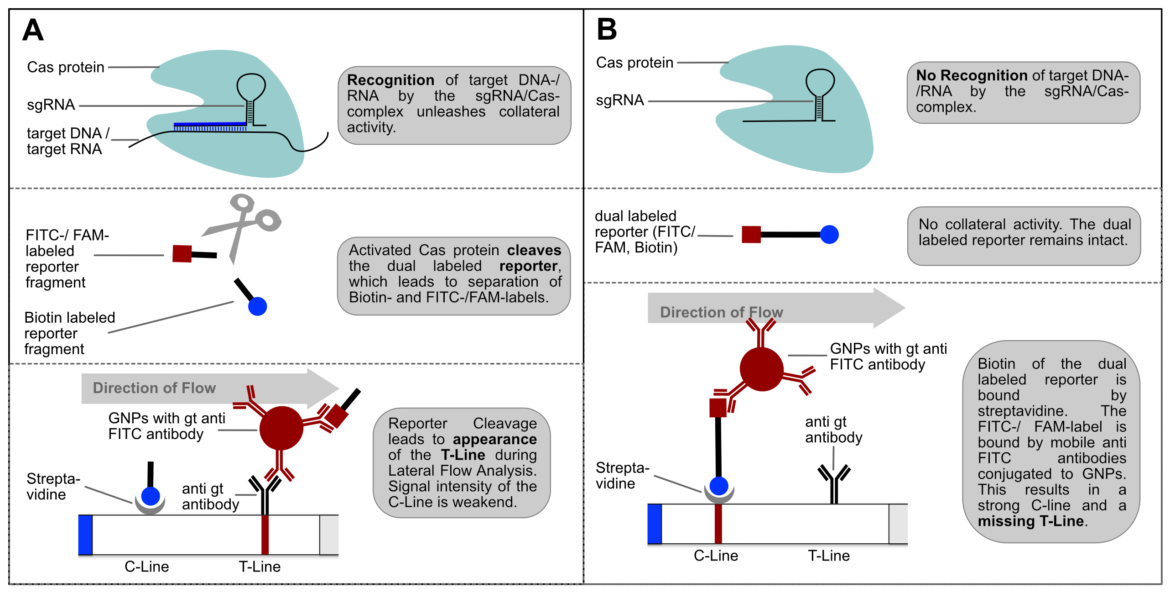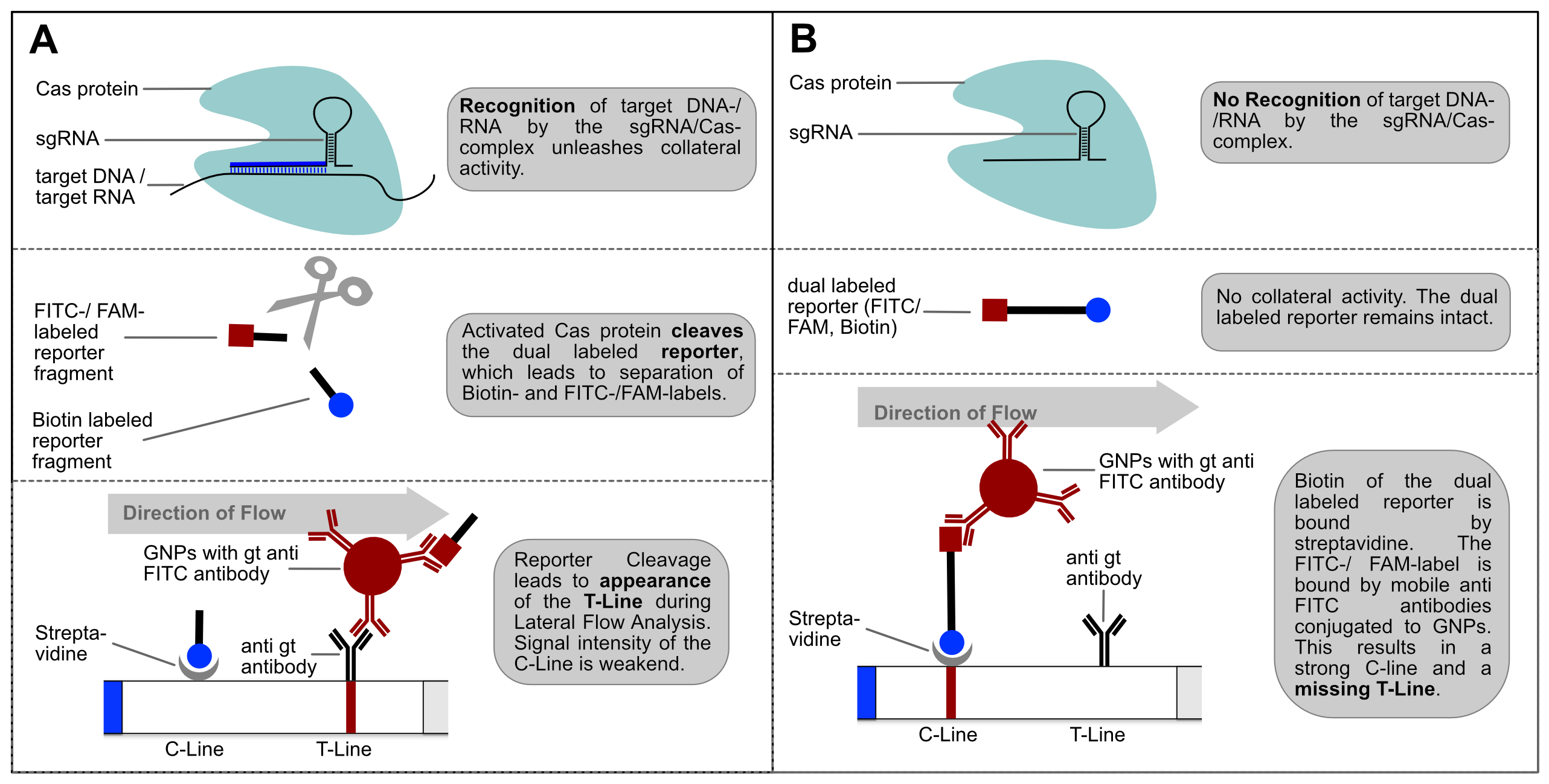 The inter­pre­tation of the Milenia HybriDetect dipstick is extremely simple. If the intensity of the T-​​line exceeds the T-​​line intensity of the negative control, the test is inter­preted as positive. At the same time, the C-​​line intensity decreases in clear positive results. The simple and intuitive inter­pre­tation of the test strips is illus­trated in the following figure. About 200 copies of artificial virus RNA can be clearly detected using the CRISPR/​Cas-​​based detection method in combi­nation with HybriDetect lateral flow assay.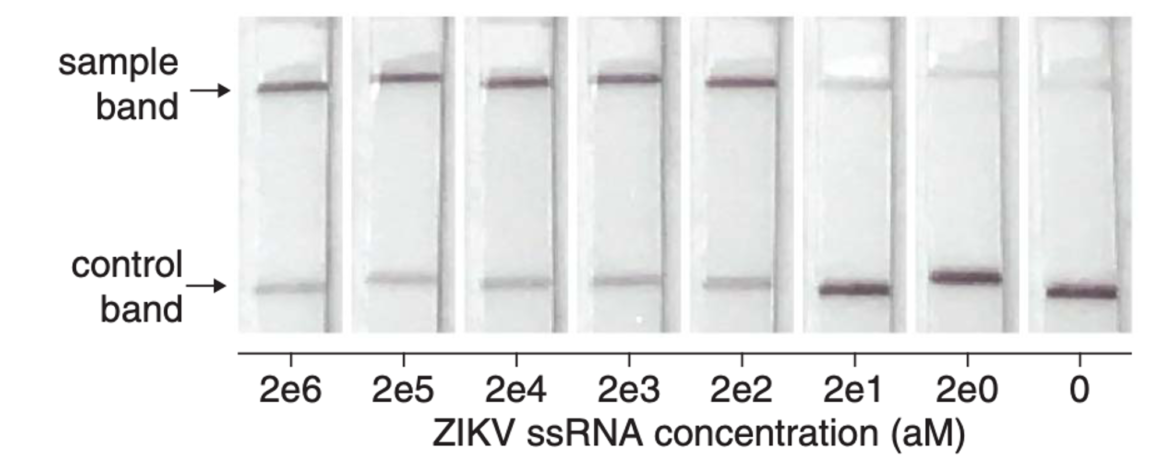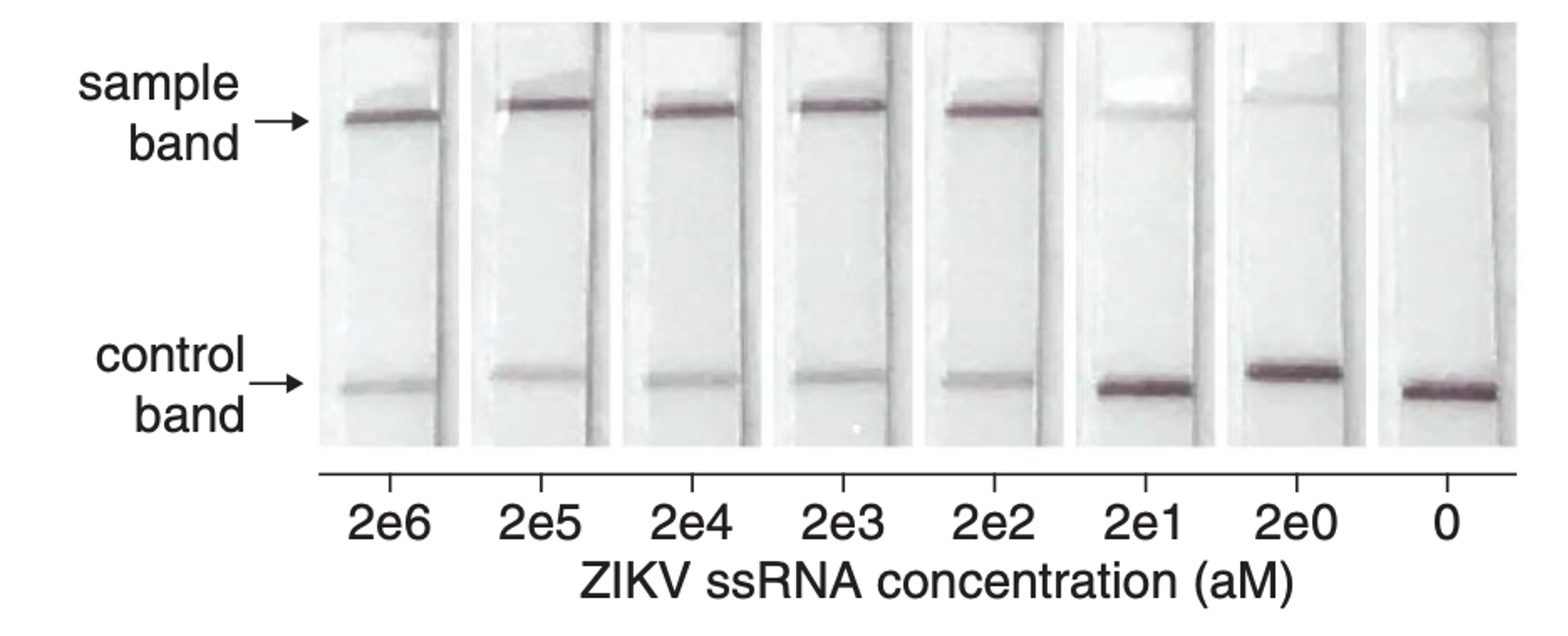 CRISPR/​Cas-​​detection methods are mostly combined with pre-​​amplification steps. Isothermal ampli­fi­cation such as LAMP or RPA are the most frequently used techniques. Combi­na­tions of these methods are named SHERLOCK, DETECTR or HOLMES. Recently, it has been proved that these CRISPR/​Cas-​​methods are able to detect patho­genic viral genomes at attomolar levels in a simple, rapid and low-​​equip Point-​​of-​​Care-​​approach using the Milenia HybriDetect.
Detection of Zika Virus ,

SHERLOCK_​CRISPR

/​Cas

13

-​​System (

12

,

13

)
Detection of Dengue Virus,

SHERLOCK_​CRISPR

/​Cas

13

-​​System (

12

)
Detection of Human Papil­lo­mavirus (

HPV

) –

16

and –

18

,

CRISPR

/​Cas

12

a-​​System (

14

)
Detection of SARS-​​CoV-​​

2

,

CRISPR

/​Cas

12

a-​​System,

CRISPR

/​Cas

13

-​​System (

15

,

16

)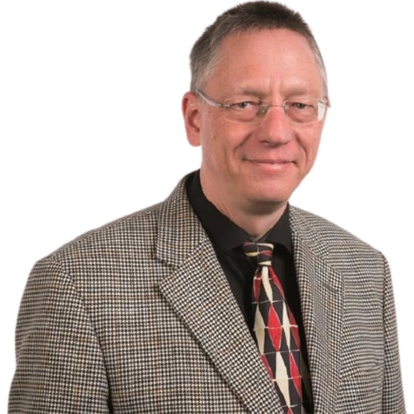 Like this post?
I'd like to keep you up to date with our latest research with an email or two per month. No spam, ever, guaranteed!